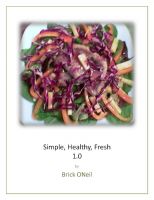 Simple, Healthy, Fresh 1.0 by Brick ONeil
https://www.smashwords.com/books/view/224370
The long-awaited and much requested cookbook is here, finally! After two years of people requesting me to write one, I got on the ball this summer and put fingers to keyboard and wrote it.  There is a six or seven page introduction/forward and six chapters, each with their own forward/introduction.
The cookbook is about 80 pages, or about 15,000 words. Each recipe has a picture of the finished product.  There are low-carb, low-fat recipes, recipes with rice (brown and wild mix, for a much healthier version, with tons of fiber), chicken, pork, beef and tons of vegetables.  There are tips and hints sprinkled throughout the cookbook, thing's i've learned as well as things you've heard a hundred times before.
This is a sneak peek, it still has to be approved for the Smashwords premium catalog, so it can be distributed to other ebook retailers across the web. At that time, I will upload it to Amazon as well.
I'm very proud of this cookbook and hope you will enjoy creating from it.