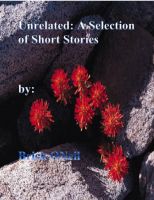 "Unrelated: A Selection of Short Stories" made it to Smashwords' Premium catalog!
The collection has been submitted to Amazon's KDP catalog, along with the revised edition of "Aside of Murder".  So those of you with kindles that would like a direct download from amazon will have the choice, after its approved.
The cookbook is with the graphics artist and hope to have it uploaded to both smashwords and amazon next week.  Fingers crossed!