Author, Cook, Writer
AUTHOR, COOK, WRITER
FROM DIALYSIS PATIENT TO PROLIFIC WRITER! AUTHOR OF THIRTEEN BOOKS IN SIX GENRES, AUTHOR OF TWO SERIES, "THE ROSE PETAL WINE MURDER MYSTERIES" AND "SIMPLE, HEALTHY, FRESH" COOKBOOKS. ALSO HAVING WRITTEN THREE BOOKS OF SHORT STORIES, A WOLF AND FAIRY PARANORMAL BOOKS AND AN ALPORTS SYNDROME BIOGRAPHY. MY PREVIOUS WRITING CLIENTS INCLUDED HEALTH, FITNESS, DISEASE, DISABILITY AND REAL ESTATE AS WELL AS MANY PREVIOUS BLOG NETWORKS.
HERE YOU WILL FIND EVERYTHING I'M INVOLVED IN, NEWS, REVIEWS AND SO ON!
When I first started out writing, I did write for several 'Article Mill sites' and did my fair share of 'Term Paper sites' but gladly gave them up when I had real clients. The Article Mill sites would have frustratingly odd formats, cliquish 'moderators' that only approved their small core of friends and they never had "hundreds of articles just waiting to be picked up".  In a pinch, they were great for picking up the odd article here or there. But eventually, as happens in life, they closed down due to less demand.
Then I wrote for a few years for article and blog networks/owners, which I made very successful, although that success  never trickled down to my bank account. What broke the camels back was one large network owner stiffing me for over a grand which I wrote for six of their blogs, and they suddenly closed down. Following this, one of the co-writers started up their own blog network and soon kept the money for themselves as well. I quit that one and started my own blogs, The Tech Gadget and Encouraging Health, which fizzled after a year or so due to no financial backers or advertisers. 
I've published my first two novels in my mystery series, "The Rose Petal Wine Murder Mysteries": "Aside of Murder" and "The Bamboo Killer", (There will be seven in the series).  I was asked to write and create a cookbook, "Simple , Healthy, Fresh 1.0" about my healthy, low-carb and low-fat dishes, which has continued to a second cookbook of fresh, healthy and simple recipes, titled "Simple, Healthy, Fresh 2.0". There are four books in this series as well.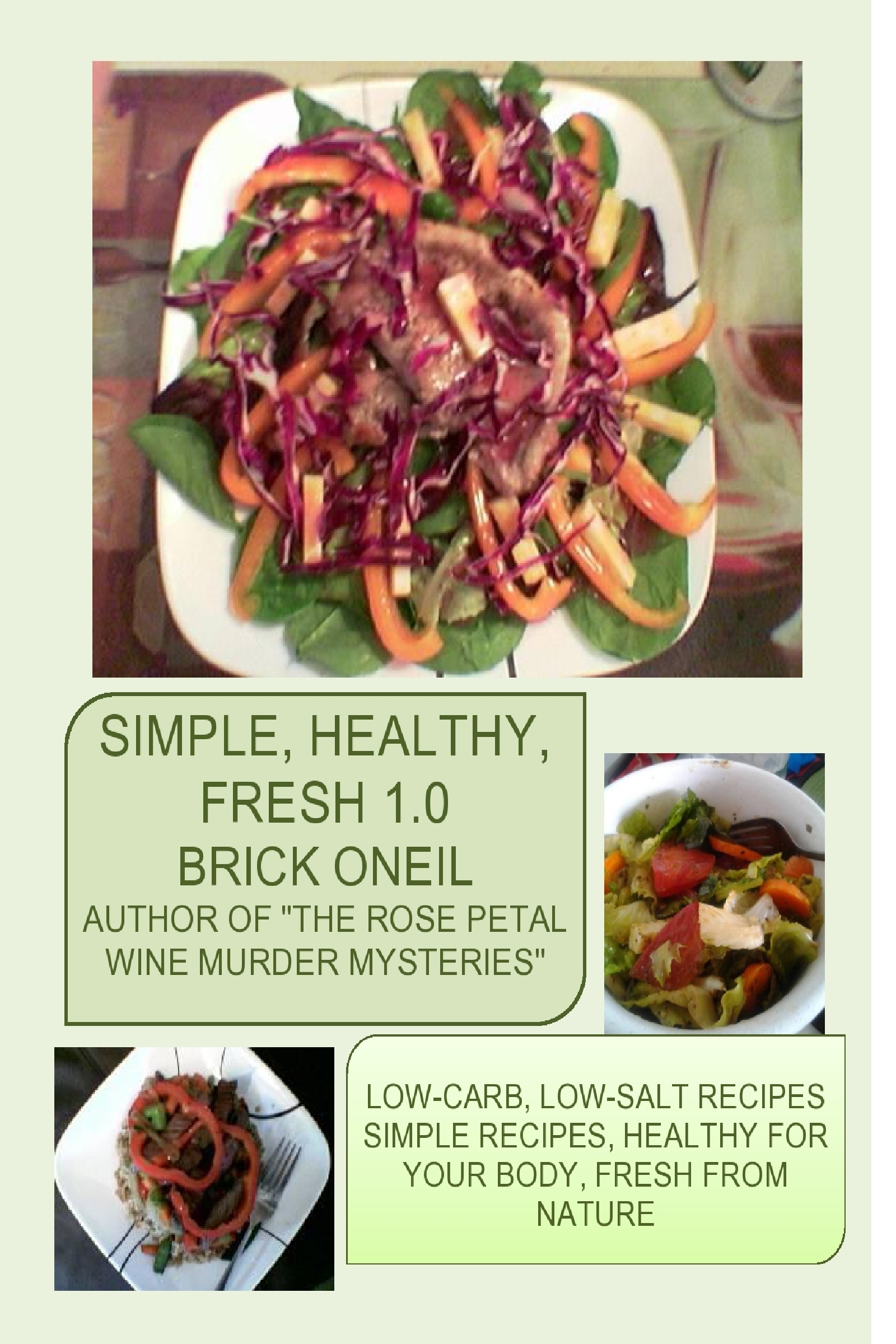 I then started writing my novels in The Rose Petal Wine Murder Mysteries and in between books, I wrote some short stories, "Unrelated: A Selection of Short Stories" and "TRIAD: Fates, Furies and Graces".  The most recent book is "Silver Linings on Dark Clouds" a personal story of my life with Alport's Syndrome.   All of which are available on all major ebook retailers.  For details, see individual pages here on the blog.
I live in Seattle, Washington with my husband and  two cats, Bobcat and Boots
UPDATES:
Update December 2015: Decided to donate all proceeds from my Alport's Syndrome Biography, Silver Linings on Dark Clouds, to the Alports Syndrome Foundation. Also, made my Introduction to Simple Healthy Fresh ebook free. I've been encountering so many obstacles to writing the third book in my novel series, Rose Petal Wine Murder Mysteries, but I'll get it done-may take awhile.
Update November 2015: Published my first Paranormal book, a MM Wolf Romance/Mystery, Never Trust The Moon. See page-more retailers coming! Published the Kids book, Under The Woodlands! Look for the page and upcoming retailers.
Update October 2015: Added Curriculum Vitae and moved "Certified Vocational Rehabilitation Counselor" under "About" Section to streamline menu. Created EBook with full information "Introduction to Simple Healthy Fresh Cookbook Series" with "How to Cook Simple Healthy Fresh", combined from all the cookbooks.
Update September 2015: Added two more books to write to my repertoire, two firsts-a science fiction novel and a children's book! Very excited about these new projects. Also, recently, I've had people contacting me blind then get offended when I asked for particulars. Basic etiquette is introduce yourself first, reason for contacting and thanking. This is just basic politeness. Also, I do not download blind either, ie: spreadsheets, pictures, pdf files, etc. So don't just say hello and send a file then get offended when I don't answer or jump at downloading your unknown file. Finally, I am no longer actively on social media or Facebook, so I will not receive messages. My only contact information is my email address, on my website.
Update April 2015: No longer posting daily blog posts here on brickoneil.com/BLOG. Realized no one was actually reading my posts and I can better spend that time than spinning my wheels and going nowhere. My last post was a test to see who would read and follow the directions. NO one did. I will post occasionally when the muse strikes.
All ebook retailer links on all pages are now updated, if you see a mistake or dead link, let me know.
Update March 2015: I have since discovered Library Overdrive crawls smashwords and uploads published books to the master site. It is up to each individual library to download the books to their particular library's hard drive, so to speak. So my books are on the master library overdrive site but not at any particular library at this time. I have no say in the matter, unfortunately.
Oysterbooks is a pay-to-read kind of site, like Amazon Prime.  You pay a monthly fee, somewhere around $10 a month, then you are free to read or download any book you like, if I am understanding correctly. The links on my books' pages show what is available at the time I created the page, not availability of books on the sites.  It's confusing, but it's what is happening.
All my books are available at this time on each of the major EBook Retailers listed under each page, at the price listed, from free to $1.99. Sometimes the retailers will change the links and not let authors know, so you have to search on their site by either book title or author name. I've noticed my name gets misspelled a lot on the retailers site, so I would suggest either letting me know or playing around with search terms on the ebook retailer's site.
Update February 2015: I have decided not to publish any of my new books on amazon and have removed the free books from Amazon Kindle Direct Publishing, since they would not honor the free price from the other retailers I listed. I do not agree with their treatment of independent writers, along with their rules for publishing on KDP and KDP Select. I am leaving previous work at Amazon and publishing new work solely with Smashwords, who, in turn, pushes to all other major ebook retailers. If you want to view my newest books, your best bet is to keep watching this website
INTERVIEW WITH SMASHWORDS!
INTERVIEW WITH BRICK ONEIL
Where did you grow up, and how did this influence your writing?
l grew up in America's heartland, the midwestern United States, earning a Bachelors of Arts in Religious Studies then moving to the southern United States for my Masters in Human Resources. The midwestern United States has good, old fashioned values, family means everything and the food is fresh. People were open and honest with their emotions, so there were a lot of raw emotions for a young writer-in-training to absorb, which comes in handy with my Novels. You can see that in alot of the characters from "The Rose Petal Wine Mystery Murders".Fresh foods were always available at Mom's table growing up, so that certainly influenced my cooking, in addition to health issues as an adult, that forced me to learn how to shop, cook and prepare fresh, natural foods, as close to natural and whole as possible. Mom was always shopping for fresh vegetables, such as carrots, onions, celery, bell peppers, and potatoes. Lord love a duck, she certainly loved her potatoes and gravy! At almost every meal and twice on Sundays.I moved around a lot after high school, living in, Iowa, Missouri, Nebraska, Oklahoma and Texas for some time before settling in the Pacific Northwestern coast, in the Emerald City, Seattle. I was able to experience alot more out of life than I would have, staying in the same small home town I grew up in.